Ancient Siege Engines

Chapter LIX

The Spring Engine
I call this machine ' the Spring engine ' as I am ignorant of its distinctive name.1 It is possible it may have been the ' Espringale,' ' Espringold,' or ' Springald ' but there is no evidence to show that this was the case, or, indeed, what it was called.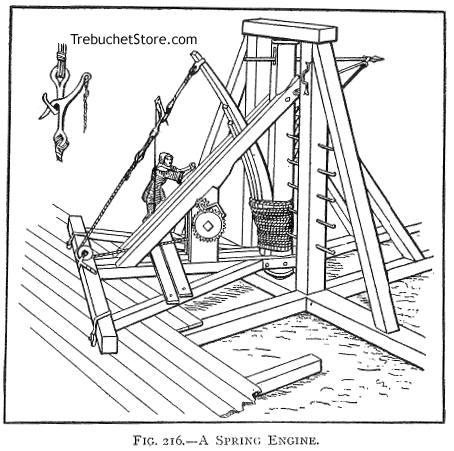 Fig. 216. - A Spring Engine.
Criticism - This engine is well depicted, together with the slip-hook which releases the arm or spring, when the latter is drawn back far enough to strike the butt-end of the javelin with sufficient force to project it.
The spring engine, as portrayed in mediaeval works, appears to have been of simple construction though it was no doubt an effective weapon. All the mediaeval drawings of it with which I am acquainted are, however, very crude
1 Of all the siege engines of the ancients this was certainly the most primitive as regards its propelling mechanism.