The Range of the Turkish Bow
In 1795 Mahmoud Effendi, Secretary to the Turkish Ambassador in London, shot a 25 1/2 - in. flight arrow 480 yards. The bow he used is similar to the one shown in fig. 1, p. 2, and is now preserved in the Hall of the Royal Toxophilite Society, Regents Park.
Mahmoud Effendi accomplished this feat - which was carefully verified at the time - in the presence of a number of well-known members of the Toxophilite Society of the day, including Mr. T. Waring, the author of a work on Archery.
Joseph Strutt, the historian, was also a spectator, and describes the incident in his book entitled ' The Sports and Pastimes of People of England.'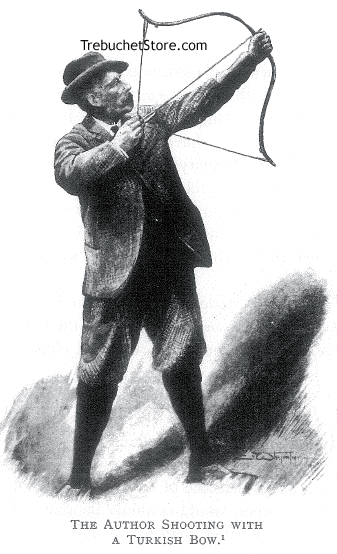 The Author Shooting with a Turkish Bow1
It is beyond question that in the seventeenth and eighteenth centuries, with bows precisely similar to the one shown in Fig. 1, but of much greater power, flight arrows were shot from 600 to 800 yards by certain famous Turkish archers.
The achievements of these celebrated, bowmen were engraved on marble
1 There are many country residences in England at which the author has made very long shots with a bow and arrow, and where trees have been planted to mark the distances. Among others ; Glynllivon Park, Carnarvon ; Broomhead Hall, Sheffield ; Onslow Hall, Shrewsbury; Norton Priory, Runcorn ; The Hendre, Monmouth, and Harpton Court, New Radnor, may be named.