The Crossbow

Chapter XIX


The Construction of a Powerful Crossbow, such as was used in the Fifteenth Century for Killing Deer with a Heavy Non-Poisonous Bolt. The same Weapon, of Slightly Larger Size, was Employed in Warfare from about 1370 to about 1490, or Till the Time when Military Crossbows were Generally Discarded for Handguns.

The Stock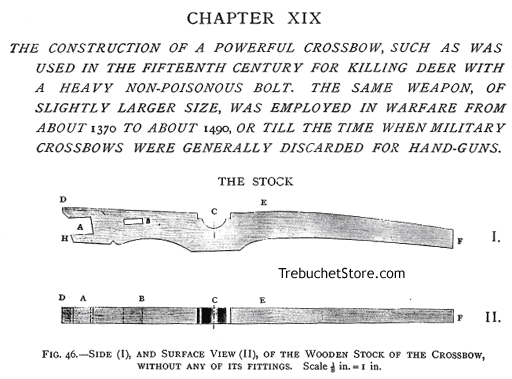 Fig. 46. - Side (I), and Surface View (II), of the Wooden Stock of the Crossbow, without any of Its Fittings. Scale 1/8 in. = 1 in.
A. The opening to take the steel bow. The depth of this opening exactly fits the width of the bow at its centre, and is here 2 in. long and 1 5/8 in. deep.
The opening, it will be seen, is sloped upwards so as to give the bow the slight cant up, which, together with the upward curve of the ends of the bow, enables its string to act without friction along the groove on the top of the stock in which the bolt is laid.
B. The oblong hole (1 3/4 in. long, 1/2 in. wide) into which the metal wedges (figs. 62, 63, p. 106) are driven which secure the bow tight to the stock. The space between this hole and the opening for the bow at A, is 3 in.
The Crossbow > Chapter 19 > Construction of a Powerful Crossbow > The Stock > p.92
Crossbow - Build a Crossbow - Crossbow Design - Crossbow Plans