The Crossbow
C. The hollow, cut transversely through the stock, in which the revolving nut and its socket are fitted, fig. 53, p. 97.
The Dimensions of the Stock are:
Extreme length, D to F, 3 ft.
Depth at fore-end, D to H, 3 1/4 in.
Depth at small end F, 1 3/4 in.
Thickness, 1 1/2 in. from D to E, then tapering to 1 1/4 in. at the small end F.
From the point of the fore-end at D, to the centre of the opening at C (which
is also the centre of the revolving nut when it is fitted, fig. 53, p. 97, 14 in.
The stock of a crossbow was always cut from some hard tough wood, such as beech, of close and straight grain ; the grain, of course, running lengthways with the stock to give it strength.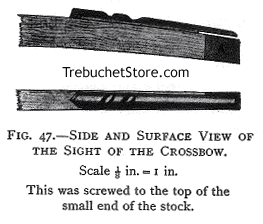 Fig. 47. - Side and Surface View of the Site of the Crossbow. Scale 1/8 in. = 1 in.
This was Screwed to the Top of the Small End of the Stock.
The sighting arrangement of a mediaeval crossbow was of a rough and ready kind, though no doubt quick and effective in use. It consisted of a strip of wood of the same thickness as the stock, 1 ft. in length and 3/4 in. high, fig. 47. The top of the strip was rounded, and had two or three large sloped transverse notches in it of varied depths, fig. 47.
The crossbowman grasped with his right hand the trigger and the handle-end of the stock of his crossbow, and took aim over the sharp point formed by the joint of the bent thumb, as it rested across one of the notches in the wooden strip. The first joint of the thumb and the uppermost edge of the head of the bolt, as the latter lay in the groove of the stock, gave the alignment. When the soldier was on the march with his crossbow over his shoulder, these notches bestowed a firm grip for the fingers of one hand.
The head of the bolt, whether blunt or pointed, being usually four-sided, had, therefore, four longitudinal edges. One of these edges was always arranged to be upright so as to act as a foresight, when the butt of the bolt was placed between the fingers of the nut and against the bowstring.
The notches in the strip of wood being of different depths, the thumb of the right hand, acting as a back-sight, could instantly be placed higher or lower, according to the trajectory required.