The Catapult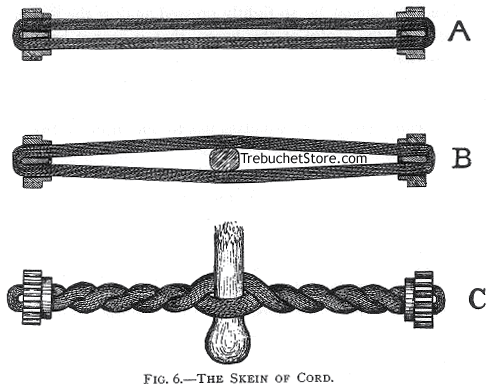 Fig. 6. - The Skein of Cord.
C. The skein as it appears when tightly twisted up by the winches. Compare with AA, fig. 3, p.14.
Cord of Italian hemp, about 1/4 in. thick, is excellent for small catapults. For Large ones, horsehair rope, 1/2 in. thick, is best and most elastic. Whatever is used, the material of the skein must be thoroughly soaked in neat's foot oil for some days previously, or it is sure to fray and cut under the friction of being tightly twisted. Oil will preserve the skein from damp and decay for many years.
How to Work the Catapult
There is little to write under this heading; as the plans, details of construction and illustrations will, I trust, elucidate its management.
The skein should never remain in a tightly twisted condition, but should be untwisted when the engine is not in use.
Previous to using the catapult its winches should be turned with the long spanner, fig. 1, p. 10, first the winch on one side of the engine and then the one on the other side of it, and each to exactly the same amount.
Small numerals painted on the sides of the large wheels, near their edges, will show how much they have been revolved; in this way their rotation can be easily arranged to correspond.
As the skein of the cord is being twisted by the very powerful winches, the arm will gradually press with increasing force against the cross-beam between the