The Crossbow
short of that end of the oblong hole in the stock which is next the nut, as shown at E, fig. 63, p. 106.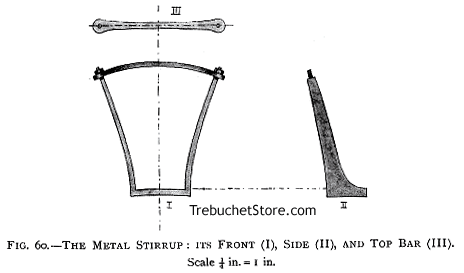 Fig. 60. - The Metal Stirrup: Its Front (I), Side (II), and Top Bar (III). Scale 1/4 in. = 1 in.
The base of the stirrup fits close upon, and is the same width (1 5/8 in.) as the centre of the back of the bow.
Its base is 2 in. long inside, or 1/2 in. more than the thickness of the stock, 1, fig. 60. This is necessary in order to give space for the bow-irons to encircle the corners of the stirrup, when the stirrup and the bow are placed in the opening in the fore-end of the stock, preparatory to their being fixed in position by the wedges acting on the bow-irons, figs. 61, 63, p. 106.
The crossbowman placed his foot in the stirrup, to enable him to hold his crossbow firmly to the ground, whilst he bent its bow with the windlass; or, in the case of small crossbows, as he drew the string to the nut with his hands alone or by means of a rope and pulley. See fig. 77, p. 124 for a crossbowman bending his steel bow with a windlass.