Chapter XXIX

The Slurbow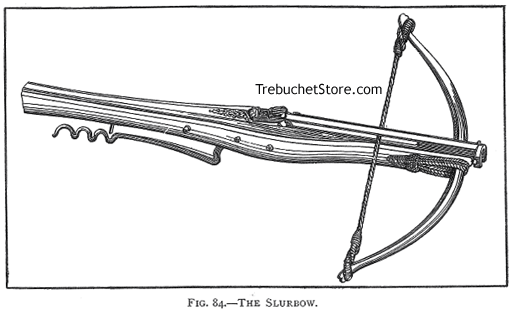 Fig. 84. - The Slurbow.
The slurbow was a crossbow with a barrel of wood or metal attached to its stock. The barrel was no doubt suggested by the hand-gun. In the slurbow, the barrel was cut away to allow the bow-string to slide along the stock, as shown in fig. 84. See fig. 159, p. 220, for a modern slurbow.
The barrel sometimes consisted merely of a piece of wood, which was fitted to the crossbow above its grooved surface. The inside of this piece of wood was hollowed out to match the groove of the stock, so that the two together formed a tube in which to place the bolt.
I can find no good example of the mediaeval slurbow except the one shown in fig. 84, which is dated 1549 and is in the Royal Armoury at Madrid.
These weapons are not mentioned till nearly the end of the fifteenth century, though in the first quarter of the sixteenth century, slurbows and their