The Bullet Shooting Crossbow
the end loops of the bow-string to be slipped over the points of the bow into the notches (or out of them, should you wish to remove the string) shaped to receive them, fig. 122, opposite page.
When the string is being put on the bow, its looped ends are passed through the clamps, fig. 126, p. 190. The bow-string being finally placed on the bow, the screws that fix the clamps are unturned. The clamps then being loose can be removed from the bow over its ends, and they and the bastard string laid aside till again required.
If the bow of a bullet crossbow is of weak construction, the bastard string need merely consist of a skein of fine twine of a thickness of 1/4 in.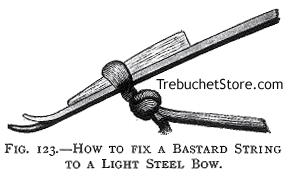 Fig. 123. - How to Fix a Bastard String to a Light Steel Bow.
The skein should have a loop knotted at each end, and these loops should be tightly lashed with waxed thread to the bow, at points respectively 2 in. short of its opposite ends.
Each loop will need a small wedge of hard wood driven under it to tighten it, fig. 123,) or it will slip along the smooth surface of the bow when pressure is applied by the lever to bend the latter and fit the bow-string.
When the bow-string is finished and fitted, the bastard string is, of course, taken off the bow.