Continental Bolt Shooting Crossbow
The fore-sight of this crossbow was very ingenious. Its sighting bead or point could be elevated or depressed to suit the range at which the crossbowman desired to shoot. It could also be moved to the right or left, to allow for a side wind or to alter the line of flight of the bolt when it did not travel straight, fig. 145.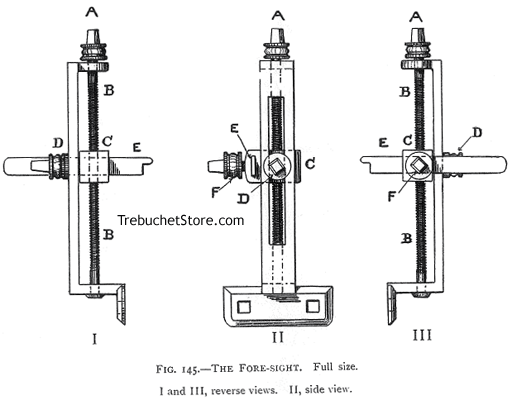 Fig. 145. - The Fore-Sight. Full size.
I and III, reverse views. II, side view.
A The squared top of the upright screw-rod B, B. By turning A, one way or the other, the screw-rod moves the block c (through which it passes), up or down the frame of the fore-sight.
E The fore-sight bar. The sighting bead or notched point of this bar projects over the groove of the stock at the fore-end of the crossbow. The bolt passes beneath this point when the weapon is discharged, fig. 144.
It will be seen that the fore-sight bar E, and the block c, travel together up or down the screw-rod when the latter is revolved by turning A.
By untwisting the screw F, the fore-sight bar E can be pushed to or fro in its hole in the block C, till its point is in a position to suit the aim; then by re-tightening F, the bar can be fixed.
The screw D, travels with the block c, up or down the upright opening in the framework. This screw D, is used to clamp C, when the latter is at a correct