The Popinjay
In confirmation of this, it is worth notice that the modern popinjay of Belgium is usually painted green, and archery records show that it has nearly always been coloured in this way.
Shooting with a crossbow at the popinjay is, perhaps, one of the oldest sports in existence in which the bow is concerned.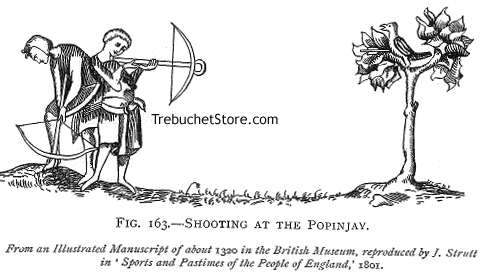 Fig. 163. - Shooting at the Popinjay.
We even read of shooting at the popinjay in the thirteenth century, and from that time to the present day it has been a common amusement in parts of the Continent.
In Virgil's fifth book of the AEneid we find a description of shooting at a popinjay- in this case a live bird.1 Virgil tells us that AEneas, when voyaging to Italy, was forced by a tempest to anchor at Drepanum, a harbour on the shores of Sicily. Here he celebrated the anniversary of the death of his father Anchises, and arranged upon the occasion, as was usual, funeral games in honour of his memory.
The games consisted of competitions in foot-racing, boat-racing, boxing and archery. In the archery contest, the final one of the celebration, the competitors discharged their arrows at a bird fastened to the top of a mast.

'This done, Aeneas orders for the close
The strife of Archers with contending bows.
The mast, Sergestus' shattered galley bore,
With his own hands he raises on the shore.
A fluttering dove upon the top they tie,
The living mark at which their arrows fly. - Dryden
1 Virgil—Roman poet, born B.C. 70, died B.C. 19.