Ancient Siege Engines in Warfare
he employed in the defence of the city, he left no description of his wonderful engines, for he regarded them as mere mechanical appliances which were beneath his serious attention, his life being devoted to solving abstruse questions of mathematics and geometry. Archimedes was slain at the capture of Syracuse. B.C. 212, to the great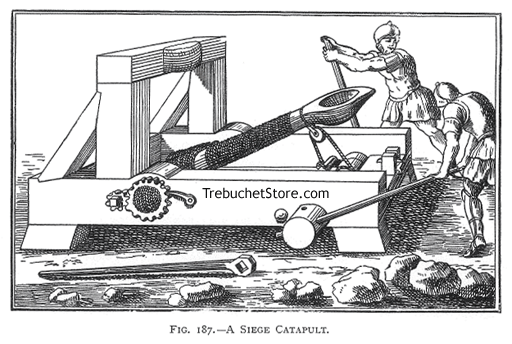 Fig. 187. - A Siege Catapult.
Criticism. This is an excellent representation of a catapult, though the engine is small for siege use. In this case the arm of the weapon is wound down till its point is secured by the catch to be seen beneath it (see fig. 201, p. 295, for this kind of lock).
One end of the winding rope is made fast to an iron bar fixed across the framework of the machine and its other to the roller the men are turning 1. There is, however, no indication of how the arm was cast off from the rope when the former was wound down to the catch, nor is there any form of safety check to be seen on the winding roller.
regret of Marcellus. Of this event Plutarch gives several versions, one of which is that ' a soldier suddenly entered his room and ordered him to follow him to Marcellus, but Archimedes refusing to do this till he had completed the problem he was engaged on, the soldier drew his sword and killed him.'
The following extracts from Josephus, as translated by Whiston, enable us to form an excellent idea of the effects of great catapults in warfare:
(I) Wars of the Jews, Book III., Chapter VII. - The siege of Jotapata, A.D. 67. ' Vespasian then set the engines for throwing stones and darts round
1 This reduced by one half the strain of winding down the arm. See remarks, p. 296.