Ancient Siege Engines in Warfare
was by hanging curtains woven from cable-ropes on the three sides of the tower exposed to the besiegers.1
Procopius relates that during the siege of Rome in 537 by Vitiges King of Italy, he saw a Gothic chieftain in armour suspended to a tree which he had climbed, and to which he had been nailed by a balista bolt which had passed through his body and then penetrated into the tree behind him.
Again, at the siege of Paris by the Northmen in 885-886, Abbo writes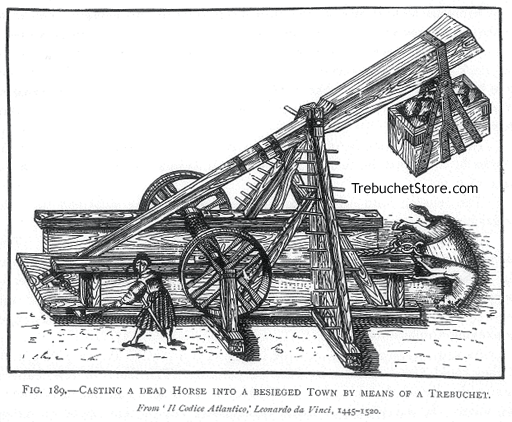 Fig. 189. - Casting a Dead Horse Into a Besieged Town by Means of a Trebuchet.
From 'Il Codice Atlantico,' Leonardo daVinci , 1445-1520
that Ebolus2 discharged from a balista a bolt which transfixed several of the enemy.
With grim humour Ebolus bade their comrades carry the slain to the kitchen, his suggestion being that the men impaled on the shaft of the balista resembled fowls run through with a spit previous to being roasted.
Not only were ponderous balls of stone and heavy bolts projected into a town and against its walls and their defenders, but with a view to causing
1 ' For this was the only sort of defence which they had learned by experience in other places could not be pierced by darts or engines.' Caesar's Commentaries on the Civil War, Book ii., Chapter ix.
2 Abbot of Saint-Germain des Pres and one of the chief defenders of the town.