Ancient Siege Engines in Warfare
His recommendation of the Roman siege engine in preference to the cannon of his time reads very curiously, especially when published at so late a date as 1727.
His reference to the crossbow as a superior arm to the gun in warfare is also interesting, however primitive the latter weapon may have then been.
de Folard writes : ' I am convinced that if it were possible to lay aside the prejudice of custom, catapults and balistas would soon reduce to silence our mortars and swivel-guns ; for who can doubt that catapults were the more useful for throwing stones and bombs ? How much would they not save in sieges ?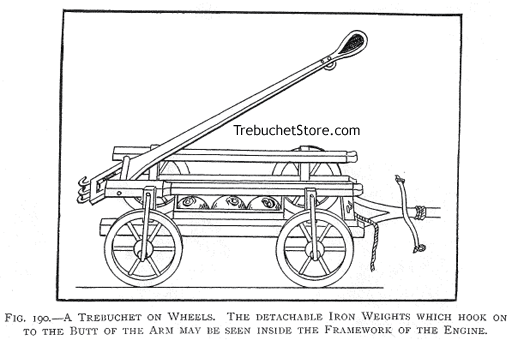 Fig. 190. - A Trebuchet on Wheels. The Detachable Iron Weights which Hook On to the Butt of the Arm May be Seen Inside the Framework of the Engine.
Criticism. The arm has no sling attached to it and resembles the arm of a catapult. An engine of this construction would not be able to cast a stone 100 yards, if, indeed 50 yards.
What paraphernalia, what an array of material, equipages, horses, men and workmen for the service and transport of mortars !
' It is apparent that a dozen mules sufficed for the carriage of the ropes, winches, arms, cushions and all the utensils necessary for several large catapults. All else required for their construction can be found wherever there are trees of a certain size, no matter what the nature of the wood.
'All kinds of stones are suitable for catapults, whereas balls only can be used for our swivel-guns. A mortar of the greatest capacity can scarcely throw a weight of 60 Lbs., while the catapult can throw 100 Lbs.