Range of Ancient Siege Engines
The successful attack or defence of a fortified town often depended therefore on which of the armies engaged had the more powerful balistas, catapults or trebuchets, as one engine of superior range could work destruction unimpeded if it happened that a rival of similar power was not available to check its depredations.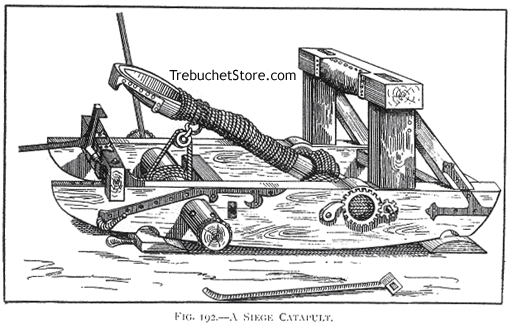 Fig. 192 - A Siege Catapult.
Criticism. An excellent drawing of a catapult. This engine was moved into position on rollers and then props were placed under its side to adjust the range of the projectile.
The end of the arm was secured by the notch of the large iron catch and was released by striking down the handle of the catch with a heavy mallet.
The arm is, however, too long for the height of the crossbar against which it strikes and would probably break off at it centre.
The hollow for the stone is much too large as a stone big enough to fit could not be cast by a weapon of the dimensions shown in the picture.
Froissart relates that 'at the siege of Mortagne in 1340, an engineer within the town constructed an engine to keep down the discharges of one powerful machine in the besieging lines. At the third shot he was so lucky as to break the arm of the attacking engine.' The account of this incident, as given by Froissart, is so quaint and graphic that I quote it here : ' The same day they of Valencens raysed on their syde a great engyn and dyd cast in stones so that it troubled sore them within the town. Thus ye firste day passed and the night in assayling, and devysing how they might greve them in the fortress.
'Within Mortagne there was a connying maister in making of engyns who saw well how the engyn of Valencens did greatly greve them : he raysed an