Ancient Siege Engines
wheels (c, c), the large wheels (is, B), revolve and twist the skein of cord (A, A), between the halves of which the arm (E, E), is placed.1 See also Frontispiece.
The skein of cord (A, A), is 8 in. in diameter.
F, F. The roller (7 in. in diameter), which winds down the arm, E, E.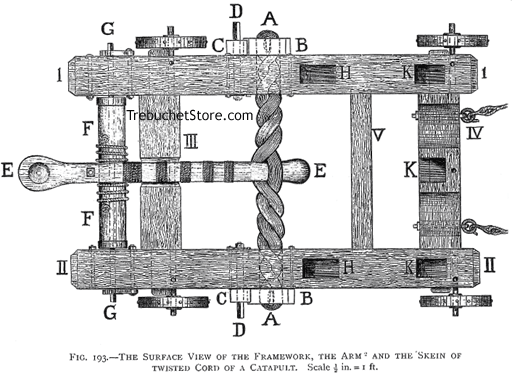 Fig. 193 - The Surface View of the Framework, the Arm2 and Skein of Twisted Cord of the Catapult. Scale 1/2 in. = 1 ft.
(To avoid confusion of details, the two uprights and the crossbar between their tops against which the arm of the catapult strikes when released, are omitted in this plan. They are shown in other figures)
The roller is revolved by two men, one on each side of the catapult.3 These men fit long spanners on the squared ends of the spindle, G, G. This spindle passes through the centre of the roller, through the sides of the catapult and also through the four iron plates in which it revolves and which hold it in position. The plates are bolted to the sides of the catapult, fig. 193, and fig. 202, p. 298.
1 The cogs in the wheels of the winches are omitted lest they should confuse other details. These
wheels are fully shown in fig. 197, p. 286.
2 The arm is here wound down by the roller. 3 See Frontispiece.