The Catapult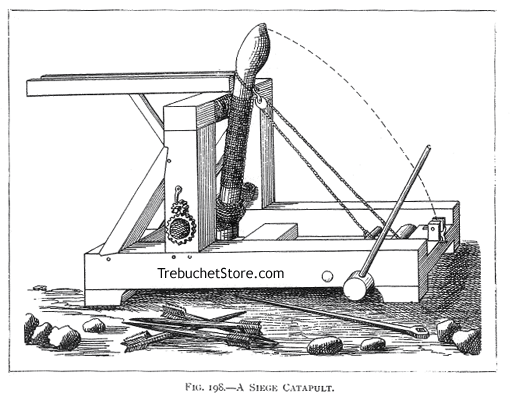 Fig. 198. - A Siege Catapult.
Criticism - A catapult for discharging stones and javelins but an impossible engine in most respects.
In this case there is a grooved piece of wood (in the form of a shallow trough) on the top of the engine. This trough is intended to hold the javelin, the projecting butt-end of which is supposed to be struck by the released arm of the catapult. I do not believe the catapult was ever employed to project a javelin. It certainly could not do so in the manner here depicted, for the reason that the arm of the machine could never strike a true blow. Besides this, the arm of the catapult casts a stone with a slinging motion and does not recoil with the quick snap of a spring, such as would be necessary to flip a javelin forward and as is the case with the engine shown in fig 216, p. 316.
Again, the winches for winding the skein of cordage are put in the weakest part of its framework in this catapult, i.e. between the uprights in stead of the sides where they should be.
The Skein of Cord
We will now conclude that our catapult is ready for its skein of cord, its winches being in position one on each side of the framework.
In the first catapult I made I fitted a skein of thick rope for the arm to work between, but I found it was impossible to put an even strain upon the rope when twisting it up with the winches.