Ancient Siege Engines
that of a catapult (i.e. with a hollow in the end of the arm in which to rest the stone as in fig. 190, p. 273), and without a sling, but this is incorrect.
The trebuchet always had a sling in which to place its missile.
The sling doubled the power of the engine and caused it to throw its projectile twice as far as it would have been able to do without it.
It was the length of the arm, when suitably weighted with its counterpoise, which combined with its sling gave power to the trebuchet. Its arm, when released, swung round with a long easy sweep and with nothing approaching the velocity of the much shorter arm of the catapult.
The weight of the projectile cast by a trebuchet was governed by the weight of its counterpoise. Provided the engine was of sufficient strength and could be manipulated, there was scarce a limit to its power. Numerous references are to be found in mediaeval authors to the practice of throwing dead horses into a besieged town with a view to causing a pestilence therein, and there can be no doubt that trebuchets were employed for this purpose. As a small horse weighs about 10 cwt., we can form some idea of the size of the rocks and balls of stone that trebuchets were capable of slinging.
When we consider that a trebuchet was able to throw a horse over the walls of a town we can credit the statement of Stella l who writes ' that the Genoese armament sent against Cyprus in 1373 had among other great engines one which cast stones of 12 cwt.'
Villard de Honnecourt 2 describes a trebuchet that had a counterpoise of sand the frame of which was 12 ft. long, 8 ft. broad, and 12 ft. deep. That such machines were of vast size will readily be understood. For instance, twenty-four engines taken by Louis IX at the evacuation of Damietta in 1249, afforded timber for stockading his entire camp3 ; a trebuchet used at the capture of Acre by the Infidels in 1291, formed a load for an hundred carts;4 a great engine that cumbered the tower of St. Paul at Orleans and which was dismantled previous to the celebrated defence of the town against the English in 1428-9, furnished twenty-six cart loads of timber.5
All kinds of articles besides horses, men, stones and bombs were at times
1 Stella G. Flourished at the end of the fourteenth century and beginning of fifteenth. He wrote The Annals of Genoa from 1298-1409. Muratori includes the writings of Stella in his great work, Rerum Italicarwn Scriptorcs, 25 vols. 1723-38.
2 Villard de Honnecourt, an engineer of the thirteenth century. His album translated and edited by R. Willis, M.A., 1859.
3 Jean Sire de Joinville. He went with St. Louis to Damietta. His memoirs, written in 1309, published by F. Michel, 1858.
4 Abulfeda, 1273-1331. Arab soldier and historian, wrote Annals of the Moslems. Published by Hafnire, 1789-94. Abulfeda was himself in charge of one of the hundred carts.
5 From an old history of the siege (in manuscript) found in the town hall of Orleans and printed by Saturnin Holot, a bookseller of the city, 1576.

---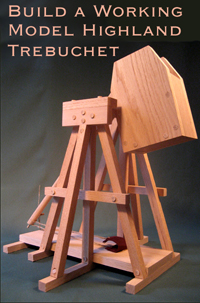 Trebuchet Plans
Build a classic hinged counterweight trebuchet with TrebuchetStore.com Trebuchet Plans and Instructions. Once complete, this magnificent Highland Trebuchet stands over 36 inches tall and will throw a scale projectile up to 80 feet.
Professional Design
Professionally engineered with an open counterweight cabinet, the Highland Trebuchet allows you to vary the weight for range and trajectory adjustment. Fire with an empty counterweight for indoor use, or add weight for increased power and range.
Great Project
The Highland Trebuchet is perfect for demonstrating medieval warfare and technology and the physics of leverage, ballistics and projectile motion. Trebuchets and catapults make great science and history projects.
Easy to Build
All TrebuchetStore.com trebuchet plans use common, inexpensive and easy to find building materials, available at your local hardware store or home center. Basic woodworking skills and tools are required, but the straightforward design requires no complicated layout or joinery.
TrebuchetStore.com trebuchet and catapult plans come complete with:
Parts Shopping List
Measured Drawings for all parts
Assembly Drawings
Step by step Assembly Instructions
Step by step Firing and Tuning Instructions
How a Trebuchet Works
All the information you need to complete your project quickly and easily.

Want to know how to build a trebuchet ? TrebuchetStore.com Plans and Instructions take the mystery out of trebuchet design and construction.

More Trebuchet Plans
| | | | |
| --- | --- | --- | --- |
| | | | |
| Medieval Trebuchet | Golf Ball Trebuchet | Tennis Ball Trebuchet | daVinci Trebuchet |