The Crossbow

Chapter XIII

How the Crossbowman Placed the Bolt of His Crossbow
on the Stock of His Weapon so as to Give the Bolt
a Free Loose and Correct Flight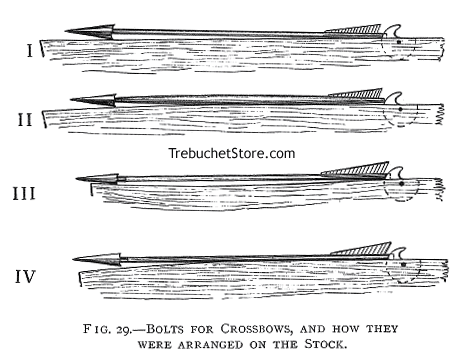 Fig 29. - Bolts for Crossbows and How They were Arranged on the Stock.
For centuries the makers of crossbows endeavoured, in one way or another, to reduce the friction of the bolt as it was driven by the bowstring along the groove of the stock. Their evident intention was to imitate the poise of the drawn arrow of the ordinary bow, which, being merely held by the fingers at one end, and lightly balanced on the archer's hand at the other, was but slightly retarded by friction when released.
These efforts of the crossbow-makers to decrease the friction of the bolt of the crossbow against the stock, as the bolt was driven forward by the bow-string, may be traced in all mediaeval crossbows or their bolts. The methods employed are described in fig. 29. See also fig. 88, p. 137.
I. Is the side view of the fore-end of a crossbow stock, which in this case is straight. The head of the bolt, however, lifts up the shaft, and in this way prevents its frictional contact with the stock.
II. The stock, also intended to be straight. As the shaft of the bolt is enlarged near its centre of length, it rests at that part only on the stock, with the result that friction is reduced when the projectile is shot forward.