The Construction of the Crossbow
In what manner this could have been done, I have never been able to ascertain. I find that the great strain put upon the bowstring of a crossbow by its lever or its windlass, forces any modern knot or wrapping to draw, with the result that the string soon becomes slack, though perhaps tight enough when first fitted to the bow.
Splicing is not feasible, because the string of a crossbow is not laid in coils like a rope, but consists of many fine threads stretched straight from one end of the bow to the other. If the bow-string was made in twisted strands like a rope, it would at once stretch and become useless.
Nor is the timber-hitch fastening (as is used to form the loops of the string of the longbow) possible, owing to the great bulk of the string of the crossbow.
It is evident, however, that if the bowstring of a crossbow could be made with its end loops of the same thickness as the rest of the bow-string, the string would be stronger than the one I am about to describe, in which the turned parts of the string that form the loops, are only half the substance of its centre.1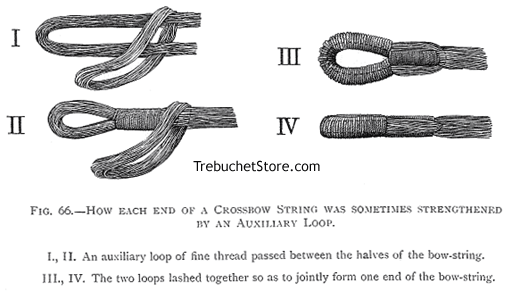 Fig. 66. - How Each End of a Crossbow String was Sometimes Lengthened by an Auxiliary Loop.
I,II An auxiliary loop of fine thread passes between the halves of the bowstring.
III,IV The two loops lashed together so as to jointly form one end of the bowstring.
In some mediaeval crossbows, the bow-strings were strengthened at their ends in a very ingenious manner by means of auxiliary loops. How this was done is shown in fig. 66.
1 I have, however, never known a string to break if made as here directed.