The Crossbow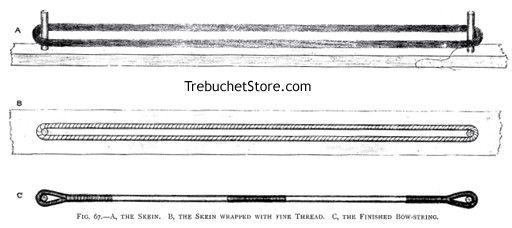 Fig. 67. - A, The Skein. B, The Skein Wrapped with Fine Thread. C, The Finished Bow-String.
How to Make the Bow-String of a Crossbow which Shoots Bolts, Fig. 67.
Hammer a round peg of hard wood (4 in. long, 1/2 in. diameter) firmly into a hole drilled through a board which is 3 ft. in length, by 6 in. wide and 1 in. thick. The hole for the peg should be 3 in. from one end of the board, and the peg should be set perfectly upright.
Place the notch at one end of the steel bow level with this peg, then fix a second peg in the board 1/2 in. short of the notch at the other end of the bow. The measurements should be taken from the outside edges of the pegs. This will give you the correct length of the bow-string.
Next wind the fine twine evenly round and round the two pegs in the board - being careful not to cross the threads between the pegs - till you have a smooth tight skein (A, fig. 67), which - when its halves are wrapped together for an inch or so with a little piece of twine to test its diameter - is the thickness of the small joint of your little finger, or 1/2 in.