The Crossbow

Chapter XXVI

The Construction of the Crossbow (Continued)

How to Fit the Bow-String to the Bow
Fig. 68. - One of the Metal Clamps to which the Bastard String is Attached. Front and Surface Views. Half full size.
The bow-string is, as we know, 1/2 in. shorter than the space between the notches of the bow, hence it will not reach from one notch of the bow to the other, when held between them. Of course the bow-string would not be taut when the bow is strung, if it were not shorter than the bow.
To place the loops of the bow-string over the ends of the bow, in the notches shaped to receive them, mechanical aid is necessary. It would be impossible to bend a thick steel bow enough for this purpose by manual power alone.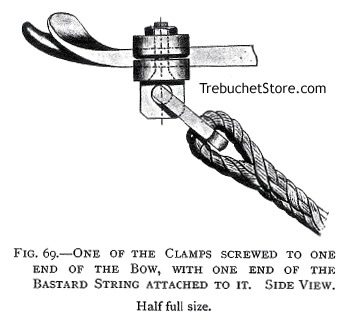 Fig. 69. - One of the Clamps Screwed to One of end of the Bow, with One End of the Bastard String Attached to It. Half full size.
To fit the bow-string to a crossbow, what was termed a false or bastard string was employed.1 The bastard string - by means of the windlass of the crossbow (fig. 76, p. 123) - bent the steel bow sufficiently to allow the loops of the bow-string to be slipped over the ends of the bow into its notches, as shown in fig. 70.
1 ' A spindle full of raw thread to make a false string for the king's crossbow.' - Monsfrefefs ' Chronicles.