---
The Crossbow > Chapter 2 > Sporting Crossbow > p.12

---
---
The Crossbow
The time and money lavished on the ornamentation of high-class sporting crossbows, especially those of late sixteenth-century Continental manufacture, were very considerable, the best workers in metal, ivory and mother of pearl, being employed in their decoration.
The stock of the sporting crossbow was often covered with artistic representations of animals, birds and hunting scenes, surrounded by scroll-work, all finely chased and inlaid in silver, ivory and pearl.
The polished metal fittings of the stock, and even the hardened surfaces of the steel bow, were sometimes deeply inlaid with a delicate tracery in gold of leaves and flowers, or heraldic designs.
Different workmen constructed the distinct parts of a good sporting crossbow, just as the separate pieces of a gun are treated in these days by various artisans, before they are fitted together to produce the weapon in its finished state.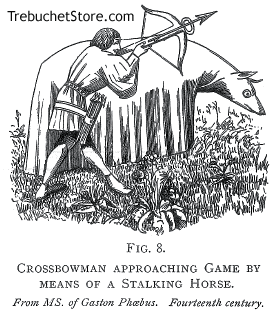 Fig. 8 - Crossbowman approaching game by means of a stalking horse.
One set of craftsmen made the stock, another the windlass or the cranequin, and so it was with the lock and the string ; but the most important artificers of all were the men who forged and shaped the steel bows. The bows from Mondragon in Spain, which were of the same quality of steel as that of the famous Toledo sword blades, and those from Pyrmont in Germany, were celebrated for their excellence of strength and temper.
In confirmation of this we read in Sir J. Harington's translation of Ariosto (Italian poet, 1474-1533) :

But as a strong and justly tempered bow
Of Pyrmont steel, the more you do it bend,
Upon recoil doth give the bigger blow,
And doth with greater force the quarrel send.

(Orlando Furioso)
The sporting crossbow of the sixteenth century, or from about 1500 to 1630, was no doubt a very effective weapon in its day for the purposes for which it was required, as the experience and skill of several centuries had brought it to perfection, ere it was at length superseded by the improved arquebus.
The hunter could not, however, bring down birds on the wing with his crossbow ; nor, indeed, could the man who used the arquebus of the same
The Crossbow > Chapter 2 > Sporting Crossbow > p.12

---
---
<! Plans Insert Starts Here>
---
---
<! Plans Insert Ends Here> <! Multi-Pack Insert Starts Here>

<!hr WIDTH="100%">

Save up to 50% with Multi-Plan Deals
---
2 Plans $19.95 FREE Shipping - Save Over 30%
U.S. Orders Only

<! Multi-Pack Insert Ends Here> <! Catapult Book Insert Starts Here>
---
Get a Book of Catapult and Trebuchet Plans
---



Book of Catapult Plans
On Amazon.com
"Build Three Working Model Catapults, Easy to Build Plans and Instructions"

Build Three Working Model Catapults, Easy to Build Plans and Instructions is ideal for anyone looking to build authentic, working model catapults.

This book contains professionally designed, step-by-step plans and instructions for building three working model catapults:

The Stone Throwing Ballista, da Vinci's Spring Catapult and The Highland Trebuchet using parts and materials available from your local home center, or hardware store.

The straightforward designs require no complicated layout or joinery and include:

A Complete Parts and Materials Shopping List
Measured Drawings and Dimensions for All Individual Parts
Step-by-Step Assembly Drawings
Step-by-Step Assembly Instructions
Detailed Construction Notes
Step-by-Step Firing and Tuning Instructions
A Photo of the Completed Catapult
<! Catapult Book Insert Ends Here> <! Trebuchet Kit Insert Starts Here>
---

| | |
| --- | --- |
| Working Model Trebuchet Kit | |
---
Trebuchet Kit
TK1

$75.00
FREE Shipping
U.S. Orders Only

The trebuchet kit includes fully precut and drilled frame parts, pins and axles, sling cord and sewn pouch, projectiles and fully illustrated assembly and firing instructions.

Unlike the flimsy, snap together plywood trebuchet kits, our all hardwood trebuchet kit does not require additional cutting, trimming or shaping.

Requires only white carpenter's glue and a few bar clamps (not included) to assemble.
<!Trebuchet Kit Insert Ends Here> <!TP7 Insert Starts Here>
---
Build a Trebuchet From Plans
---
Materials Shopping List
Complete Parts List
Measured Drawings for All Parts
Step-By-Step Assembly Drawings
Construction Details and Notes
How a Trebuchet Works
Illustrated Firing Instructions
Illustrated Tuning Instructions
Picture of the Completed Trebuchet
<!TP7 Insert Ends Here> <! Assembled Model Starts Here>
---
| | |
| --- | --- |
| Fully Assembled Working Models | |
---

daVinci Trebuchet

T4

$299.00
FREE Shipping
U.S. Orders Only

Inspired by the great war machines and siege catapults of Leonardo da Vinci , this all Red Oak hardwood trebuchet features an open counterweight cabinet for range and trajectory adjustment.

Individually crafted from cabinet-grade red oak, the da Vinci Trebuchet stands 14 inches tall in the cocked position, 24 inches tall in the fired position and will hurl a projectile up to 60 feet. Includes six projectiles and fully illustrated instructions.
<! Assembled Model Ends Here>