sixteenth century sporting crossbow
end. this little piece of ivory had a small hollow in its centre for the shaft of the bolt to lie in.
the butt of the bolt was placed against the bow-string, between the fingers of the revolving nut. the bolt being slightly tapered at its butt, the fingers of the nut held it from movement when it was gently wedged between them. it will be observed that the shaft of the bolt - except at its extremities - does not come in contact with the crossbow. with this plan of arranging the bolt, friction was much reduced and the missile left the crossbow with an accurate and unimpeded flight.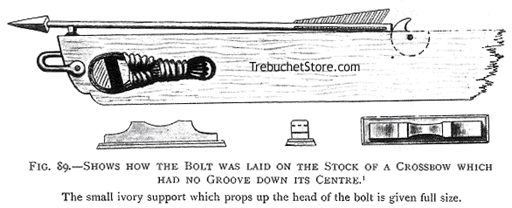 fig. 89. - shows how the bolt was laid on the stock of a crossbow which had no groove down its centre1
the small ivory support which props up the head of the bolt is given full size.
the bolts of these sporting crossbows resembled short thick arrows rather than ordinary crossbow bolts. whether they were nocked or not, i cannot say. it is possible, however, they were nocked to prevent them from slipping off the bow-string when it was released. in the older crossbow which had a groove along its stock to influence the flight of the projectile, a nock in the butt-end of the bolt was unnecessary. as sporting crossbows were required to shoot with great accuracy, it is probable the manner of placing the bolt on the stock shown in fig. 89, was the most effective for precision.
the more ancient methods of laying the bolt of a crossbow on its stock are given in chapter xiii.
though the military crossbow was generally superseded in open warfare by the hand-gun about 1500, the sporting crossbow bent by a cranequin, was popular with sportsmen and foresters for over a century later. this was because of the silent discharge of the crossbow, and owing to the imperfect ignition, noise and costliness of the arquebus.
1 the support being mortised transversely into the stock, could be moved to the right or left and then clamped by a small screw when adjusted to give a correct flight to the bolt which rested upon it.