The Crossbow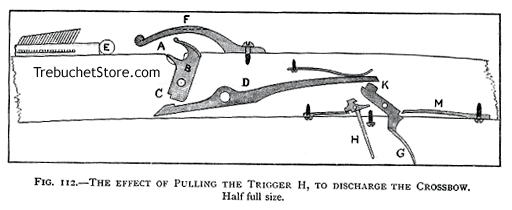 Fig. 112. - The Effect of Pulling the Trigger H, to Discharge the Crossbow. Half full size.
Fig. 112. By pulling back the trigger H, the cocking lever G, is set free, and is at once jerked forcibly upwards by the strong spring M. The result of this is, that the projection on the top end of o, strikes a smart blow at K, underneath the long end of the lever D.
This impact of G below the long end of D, causes its other end at c, to drop down and thus instantly to disengage with B, where the two pieces were previously interlocked at c, as in fig. 111.
The catch B, being now free to swing has no further hold at its top on the bow-string E, as it had in figs. 109, 110, 111.
The bow-string E, having nothing to detain it flies out of the sloping notch and propels the bolt along the stock, fig. 112. The lock of the crossbow then returns to the position given in fig. 108.
By twisting in or out the small screw to be seen between G and H, the trigger H, can be regulated to any pull, however light.
The pieces G, H, with their pins and springs, work in a metal casing attached to the inner face of the trigger-plate which closes the opening under the stock through which the parts of the lock are inserted.
The pieces of the lock are from 5/16 in. to 3/8 in. thick, transversely.
As the steel bow of a large sporting crossbow that was bent by a cranequin or a windlass, was far more powerful than the bow of a crossbow used for target practice and for killing birds and small animals, the former required a stronger arrangement for holding its bow-string than the notch and catch above described.