The Crossbow
falling into a tangle. This outside wrapping should be done in turns 1/8 in. apart before the skein is lifted off the pegs.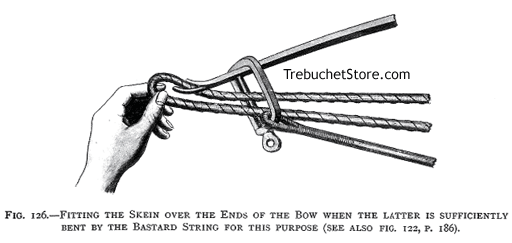 Fig. 126. - Fitting the Skein Over the Ends of the Bow when the Latter is Sufficiently Bent by the Bastard String for the Purpose ( see also Fig. 122. p. 186).
Secure the stock of the crossbow in a bench-vice, then by means of the bastard string and the application of the lever of the crossbow, bend the steel bow till the ends of the skein can be slipped into the notches at the ends of the bow, as shown in fig. 126. How to apply the bastard string for this purpose is explained in Chapter XXXVIII.
The cross-trees should now be fixed to the skein.
These consist of two little pillars of ivory turned in a lathe, their ends being notched to prevent them from slipping when fitted. Each pillar is 1/4 in. thick by if in. long ; one is shown in fig. 127.


Fig. 127. - A Cross Tree. Full size.
Place a cross-tree through both halves of the skein, at a point that is 6 in. from the centre of the latter. Place the other cross-tree in a corresponding position, C C, fig. 115, p. 178, and fig. 137, p. 193.
The ends of the cross-trees should divide equally the threads of the skein where they pass through them. On each side of the cross-trees the