The Bullet Shooting Crossbow
skein - or bow-string as it may now be called - will have to be wrapped tightly round with fine waxed whip cord, for a length of 1 in. One of the cross-trees as fixed in the bow-string, is shown in fig. 128.


Fig. 128. - One of the Cross Trees in Position in the Bow String. Half full size.
Next, slightly bend the bow again with the bastard string and the lever to remove the bow-string, then tightly wrap each end of the bow-string with waxed whip-cord, as in fig. 129.

Fig. 129. - One of the Ends of the Bow String. Half full size.
By the aid of the bastard string the bow-string may now be replaced on the bow - this time permanently. When this is done, the bastard string and its clamps can be removed as they are no longer required.
The pocket (formerly called from its shape the cradle) to hold the bullet comes next and requires to be made strongly and neatly.
(1) Hold a piece of round wood, 1 in. in diameter and 3 in. long, in an upright position against the centre of the bowstring and on that side of it which is towards the butt-end of the crossbow. The centre of the bow-string should, of course, be above the centre of the stock, fig. 130.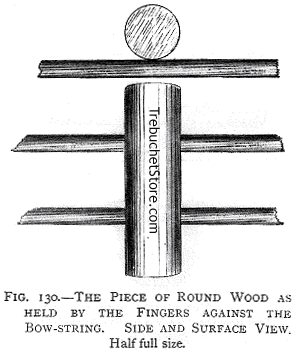 Fig. 130. - The Piece of Round Wood as Held by the Fingers Against the Bow String. Side and surface View. Half full size.