The Bullet Shooting Target Crossbow
The lock, and the catch that holds the stretched bow-string are. the same as those shown in Chapter XLIII.
The fingers of the catch are recessed into the barrel sufficiently to allow them to move up or down as required, so that they may grasp or set free the bow-string, fig. 159.
The bow of this crossbow is bent in the same manner as the one depicted in fig. 156, p. 217. The stringing lever is also similar in all respects.
When the bow has been bent by the lever the bullet is inserted in the barrel, down which it rolls till it rests against the centre of the bow-string, fig. 158.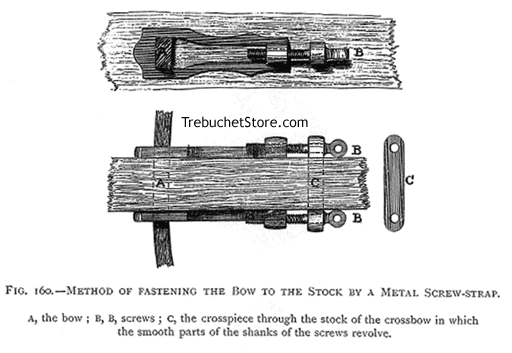 Fig. 160. - Method of Fastening the Bow to the Stock by a Metal Screw Strap.
A, the bow; B,B, screws: C, the crosspiece through the stock of the crossbow in which the smooth parts of the shanks of the screw revolve.
The crossbow cannot be aimed downwards, or the bullet will run out of the barrel.
This bullet crossbow with a barrel is very popular in Belgium for shooting at small wooden birds set on the top of a pole about 100 ft. in height.
The competitors endeavour to knock the dummy birds off the pole, the shooter who succeeds in bringing down the last remaining bird winning the first prize. Unless the aiming is very correct, a bird may be struck many times without being brought to the ground.1
1 The extreme top of the pole has a crosspiece. On this crosspiece there are fixed at intervals, a dozen or so sets of small outward-curving steel springs, like the feathers of a shuttlecock pointed upwards. A dummy bird, made of lignum vitae, is placed inside each set of springs and cannot well be knocked out of