The Crossbow
This crossbow shoots with more force than the English bullet crossbow, the reason being that it has a single bow-string which acts directly on the projectile. The Belgian weapon requires, however, a separate lever to bend its bow, and besides this inconvenience it is heavy in comparison with the one of English make which discharges a bullet.
As regards accuracy for rook-shooting, the Belgian crossbow is quite equal to a rifle, and its bullet will knock a rook lifeless without cutting it to pieces.
The extreme distance this crossbow throws its bullet, is about 380 yards.
the projections that surround it unless struck fair in the centre of the breast. The birds have different values according to their position. The pole, by means of a heavy weight attached to its butt-end, is balanced on a cross-pin which perforates it about 20 ft. from the ground, the pin being fixed between two perpendicular posts supported by props. A rope secured to the top of the pole, enables it to be swung down parallel with the ground, so that the birds may be replaced when they have all been knocked off. The pole acts like the mast of a barge when it is lowered to pass under a canal bridge.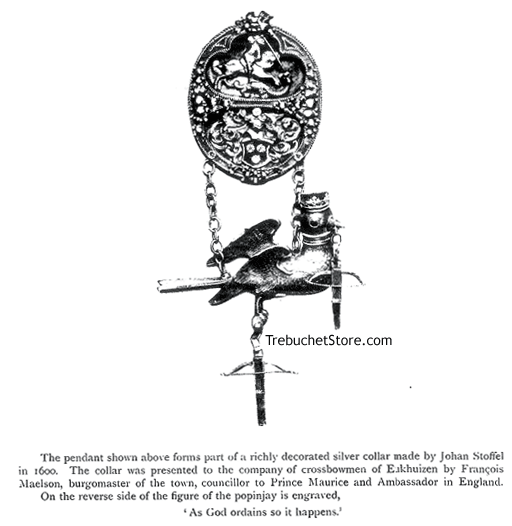 The pendant shown above forms part of a richly decorated silver collar made by Johan Stoffel in 1600. The collar was presented to the company of crossbowmen of Eukhuizen by Frangois Maelson, burgomaster of the town, councillor to Prince Maurice and Ambassador in England.
On the reverse side of the figure of the popinjay is engraved, ' As God ordains so it happens.'