The Crossbowmen of Dresden
The crossbow bolts break the entire bird to fragments by degrees and bring it down in larger or smaller pieces, the heart or centre being always the last part to fall. A new bird has, of course, to be made every year for the annual competition.
The crossbowman who shoots off the last remaining portion of the heart or centre of the bird and who thus makes the ' Konigschuss' or King's shot, is the champion for the year. He receives 7l., 10s. in cash, out of which he has to pay a number of douceurs to the attendants employed.
The competitors stand at a distance of 50 yards from the foot of the mast, and each member shoots in regular rotation one bolt at a time.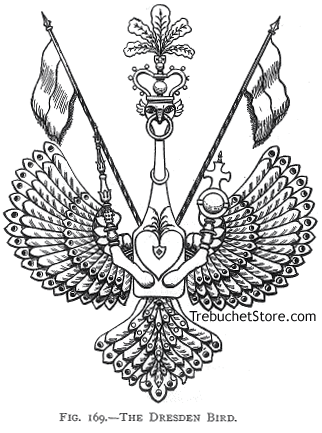 Fig. 169. - The Dresden Bird.
From the foregoing account it will be seen that many hundred bolts may be expended before the bird is completely destroyed. The meeting is intended to last a week and it usually does so.
The crossbow used in the competitions at Dresden, as well as for frequent practice throughout the summer at ordinary circular targets, is, together with its lever, the same in shape and mechanism as the one shown in fig. 105, p. 165.
The Dresden crossbow is, however, larger, and has a considerably stronger steel bow than that given in fig. 105 ; the more modern ones having also butt-ends like fowling-pieces. The Dresden weapon costs from 5l. to as much as 15l.
The bolt - ' Kronenbolzen ' - employed with the Dresden crossbow for shooting at the bird has a heavy and blunt metal head. The head, as the name implies, is in the form of a crown, with four outside points and a centre one all on the same level,1 fig. 170.
1 If the bolt were sharp at its end, like an arrow, it would stick into the parts of the bird and hence fail to knock them off. As the bolts fall to the ground they are rapidly passed back to the shooters by a number of children, who, standing in line at short intervals, adroitly throw them from hand to hand till they finally reach their respective owners. This method of returning the bolts is even indicated in fig. 168, p. 231.