Chinese Repeating Crossbow

The Construction of the Chinese Repeating Crossbow, Figs 171,172.
A, A. The magazine in which the ten or twelve small arrows are laid (one on the other) when the weapon is made ready for use.
B, B. The stock in which the bamboo bow is fixed.
C. The lever that works the crossbow. The lever is hinged to the stock of the crossbow and its magazine by metal pins, fig. 174, next page.
E. The piece of wood along the upper surface of which a groove is cut for an arrow to rest in, and that also has a notch in it to hold the bowstring.
This piece is attached to the magazine and forms the lower part of it.
How to Work the Crossbow, Fig. 174, Next Page
By pushing forward the magazine by means of the lever, the bow-string is automatically caught in the notch above the trigger, A, fig. 174, next page.
At the moment when the bow-string is thus secured, an arrow falls from the magazine into the groove cut out in front of the notch. An arrow cannot drop from the magazine into the groove till the bow-string is in the notch, fig. 175, p. 242.
The trigger consists of a little piece of hard wood. When the lever is fully pulled back the trigger pushes the stretched bow-string upwards out of the notch that holds it, B, fig. 174, next page. The trigger works in an upright slot. It has its upper end enlarged to prevent it from dropping out of the slot in which it moves up or down, fig. 173.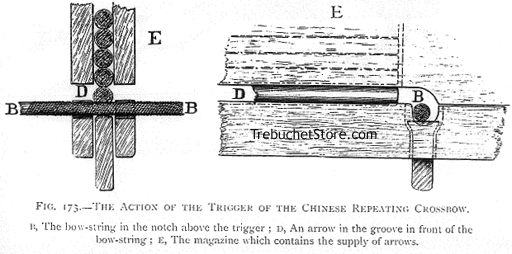 Fig. 173. - The Action of the Trigger of the Chinese Repeating Crossbow.
B, The bow-string in the notch above the trigger ; D, An arrow in the groove in front of the
bow-string ; E, The magazine which contains the supply of arrows.
---
Repeating Crossbow

$12.95
FREE Shipping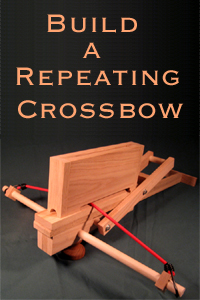 Repeating Crossbow Plans
Build a Repeating Crossbow with our easy, step by step plans and instructions. When complete, the repeating crossbow measures 32 inches long and will fire up to 10 bolts in as little as 8 seconds without reloading.
Professional Design
Based on the ancient Chinese Repeating Crossbow, our crossbow uses modern materials, including a bungee cord for a bow, to ease construction while maintaining a historically correct mechanism and action.
Easy to Build
All TrebuchetStore.com plans use common, inexpensive and easy to find building materials, available at your local hardware store or home center. Basic skills and tools are required, but the straightforward designs require no complicated layout or joinery.
The Repeating Crossbow plans come complete with:
Parts Shopping List
Measured Drawings for all parts
Assembly Drawings
Step by Step Assembly Instructions
Step by Step Operating Instructions
All the information you need to complete your project quickly and easily.

The Crossbow > Chapter 49 > The Chinese Repeating Crossbow > p.239