Chapter XLIX

The Chinese Repeating Crossbow
Here we have surely the most curious of all the weapons I have described.
Though the antiquity of the repeating crossbow is so great that the date of its introduction is beyond conjecture, it is to this day carried by Chinese soldiers in the more remote districts of their empire.
In the recent war between China and Japan, 1894-95, the repeating crossbow was frequently seen among troops who came from the interior of the first-named country.
The interesting and unique feature of this crossbow is its repeating action, which though so crudely simple acts perfectly and enables the crossbowman to discharge ten arrows in fifteen seconds.
When bows, and crossbows which shot one bolt at a time, were the usual missive weapons of the Chinese, it is probable that the repeating crossbow was very effective for stopping the rush of an enemy in the open, or for defending fortified positions.
For example, one hundred men with repeating crossbows could send a thousand arrows into their opponents' ranks in a quarter of a minute.
On the other hand, one hundred men with bows, or with ordinary crossbows that shot only one arrow at a discharge, would not be able to loose more than about two hundred arrows in fifteen seconds.
The effect of a continuous stream of a thousand arrows flying into a crowd of assailants - in so short a space as fifteen seconds - would, of course, be infinitely greater than that of only two hundred in the same time, especially as the arrows of barbaric nations were often smeared with poison.
The small and light arrow of the comparatively weak Chinese crossbow here described had little penetrative power. For this reason the head of the arrow was sometimes dipped in poison, in order that a slight wound might prove fatal.
The impetus of the heavy bolt of the medieval European crossbow which had a thick steel bow, was sufficient to destroy life without the aid of such a cruel accessory as poison.
---
Repeating Crossbow

$12.95
FREE Shipping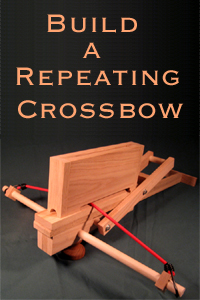 Repeating Crossbow Plans
Build a Repeating Crossbow with our easy, step by step plans and instructions. When complete, the repeating crossbow measures 32 inches long and will fire up to 10 bolts in as little as 8 seconds without reloading.
Professional Design
Based on the ancient Chinese Repeating Crossbow, our crossbow uses modern materials, including a bungee cord for a bow, to ease construction while maintaining a historically correct mechanism and action.
Easy to Build
All TrebuchetStore.com plans use common, inexpensive and easy to find building materials, available at your local hardware store or home center. Basic skills and tools are required, but the straightforward designs require no complicated layout or joinery.
The Repeating Crossbow plans come complete with:
Parts Shopping List
Measured Drawings for all parts
Assembly Drawings
Step by Step Assembly Instructions
Step by Step Operating Instructions
All the information you need to complete your project quickly and easily.
The Crossbow > Chapter 49 > The Chinese Repeating Crossbow > p.237