The Crossbow
The bow was made either of one stout piece of male bamboo, about 3 ft. 6 in. long, or of several flat strips lashed together.
In the latter case, the bow-string passed through a hole in each end of the bow, fig. 174, p. 240. The bow-string consisted of animal sinew twisted into a cord of suitable strength.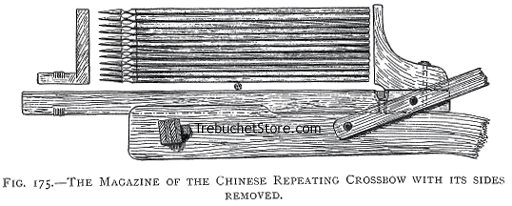 Fig. 175. - The Magazine of the Chinese Repeating Crossbow with Its Sides Removed.
It will be seen that an arrow cannot drop down from the magazine into the groove along which the bow string travels till the latter is in the notch above the trigger, as shown in A, fig. 174, p. 240.
---
Repeating Crossbow

$12.95
FREE Shipping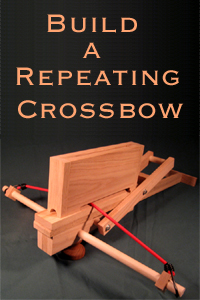 Repeating Crossbow Plans
Build a Repeating Crossbow with our easy, step by step plans and instructions. When complete, the repeating crossbow measures 32 inches long and will fire up to 10 bolts in as little as 8 seconds without reloading.
Professional Design
Based on the ancient Chinese Repeating Crossbow, our crossbow uses modern materials, including a bungee cord for a bow, to ease construction while maintaining a historically correct mechanism and action.
Easy to Build
All TrebuchetStore.com plans use common, inexpensive and easy to find building materials, available at your local hardware store or home center. Basic skills and tools are required, but the straightforward designs require no complicated layout or joinery.
The Repeating Crossbow plans come complete with:
Parts Shopping List
Measured Drawings for all parts
Assembly Drawings
Step by Step Assembly Instructions
Step by Step Operating Instructions
All the information you need to complete your project quickly and easily.
The Crossbow > Chapter 49 > The Chinese Repeating Crossbow > p.242