Ancient Siege Engines
It frequently happens that in a mediaeval picture of one of these machines some important mechanical detail is omitted, or from the difficulty of portraying it correctly is purposely concealed by figures of soldiers, an omission that may, however, be supplied by reference to other representations of the same weapon.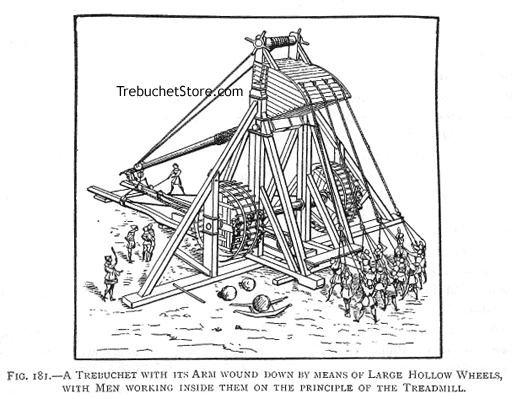 Fig. 181. - A Trebuchet with Its Arm Wound Down by Means of Large Hollow Wheels, with Men Working Inside Them on the Principal of a Treadmill.
Criticism. The stone is in its sling on the central plank inside the frame work. This plank is grooved to prevent the stone form inclining to one side or the other as it is raised by the arm of the engine.
The man with the rope in his hand is about to free the catch which releases the arm. The instant the man releases the arm, the score or so men at the fore-part of the engine will pull the ropes attached to the counterpoise, with a view to increasing the speed of its decent and hence the velocity to which the arm ascends. The commander is giving a signal with his baton that the engine is to be discharged. I do not consider any number of men pulling down the counterpoise with ropes would exert and influence on the speed with which so vast a weight would descend - a weight of several tons ! see Chapter LVIII.
It is indeed impossible to find a complete working plan of either a catapult, a balista or a trebuchet ; a perfect design for one being obtainable only by consulting many authorities.
Some of the historians, mechanicians and artists from whom information on balistas, catapults and trebuchets may be derived, are as follows. I name them alphabetically irrespective of their periods :