Ancient Siege Engines
mediaeval books are inaccurate through having been incorrectly copied from older works.
In some cases the machines are of absurd appearance, their details of construction having been evolved from the imagination of the artists who attempted to portray them.
In other instances authors have quoted extracts from early manuscripts, and then supplied laboriously minute engravings of what they fancied the engines referred to were like.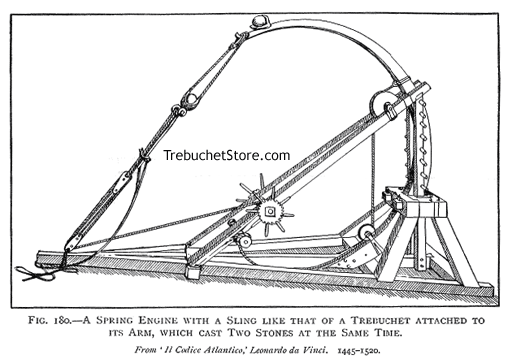 Fig. 180. - A Spring Engine with a Sling like that of a Trebuchet Attached to Its Arm, which Cast Two Stones at the Same Time.
As I have made both large and small working models of the projectile siege engines of the ancients, I shall hope to elucidate their mechanism.1 These models with their details and dimensions, are the result of a practical application of the best ancient and medieval directions and plans I have been able to discover in home and continental libraries
With some knowledge of engineering and ballistics, I have not found it difficult to fit together the parts of these engines or to ascertain their mechanism and relative power. In a medieval drawing of a ballista or a catapult the perspective was commonly of ludicrous incorrectness, but by constructing a model of fair size the design of the original may often be discovered.
1My largest catapult weighs one and a half tons.