Ancient Siege Engines
Figs. 204, 206, 207, 208, 209, explain the construction of the ballista. The dimensions of the fore-end of the engine (fig. 206, p. 304) are as follows:
Total length of the oblong frame in which the arms work, 6 ft.
Height of the frame inside, 2 ft.
The four outside timbers of the frame are each 8 in. thick x 18 in. wide.
The two centre pieces of the frame between which the fore-part of the stock is fixed, are each 6 in. thick and 18 in. wide. These pieces are 7 in. apart.
The skeins of cord are each 8 in. in diameter.
The arms are each 4 ft. long; 6 in. wide at their butt-ends and 4 in. thick.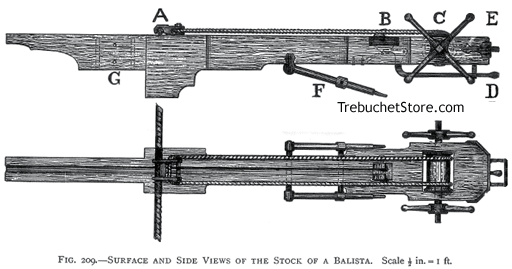 Fig. 209. - Surface and Side Views of the Stock of a Balista. Scale 1/2 in. = 1 ft.
A. The claws of the windlass hooked over the bow string preparatory to pulling it back to the catch of the lock. B. The lock and the catch for holding the stretched bowstring. C. The windlass. D. The trigger. E. The handle for adjusting the stock when aiming. F. The hinged support which enables the stock to be elevated or depressed to suit the trajectory required. G. The part of the stock that fits between the two uprights in the centre of the framework, see figs 206, 207, 208.
The length of the stock is 12 ft.; with a groove along its surface 1 3/4 in. wide and 1/2 in. deep.
The draw of the bow-string, from a state of rest to the catch of the lock, is 5 1/2 ft.
The narrow part of the stock on which the arrow is laid (fig. 204, p. 300), is 7 in. wide and 8 in. deep.
The winding roller is 7 in. in diameter and 14 in. long.
The large wheels of the four winches that twist the skeins of cordage between which the arms work, have each an opening 8 1/2 in. in diameter.