Ancient Siege Engines
and though they give a general idea of the machine their details of its mechanism are often confusing.
The motive principle of the spring engine was precisely as if you placed a wooden match 1/2 in. over the edge of a table, and then struck the projecting part of the match with the blade of a steel knife, first by bending the blade of the knife back with the fingers and then suddenly releasing it.
The match may be taken to represent the javelin and the blade of the knife the spring that propels it.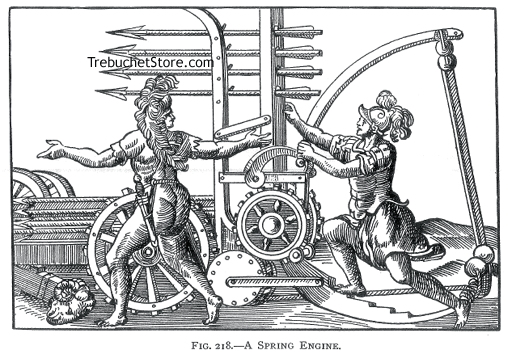 Fig. 218. - A Spring Engine.
Criticism - A complicated and fanciful drawing of a spring engine. The arrows would be broken off at their butt ends instead of being projected forward.
The arm, or spring of this engine was of such great strength that it could not possibly be bent without the aid of a windlass. It is probable that the arm consisted of many thin flat laths of elastic wood, glued and bound together. A steel spring would have been too stiff, I consider, for propelling the javelin.
The arm was secured in a strong frame, and was drawn back by a rope and winch till it was sufficiently bent to serve its purpose. It was then set free by a slip-hook and instantly struck the projecting butt-end of the javelin a violent blow.