Summary of the History of the Crossbow
The crossbow was popular on the Continent for killing deer, till about 1635, possibly in parts of Italy and Spain even later, as there are many fine examples of powerful bolt-shooting sporting crossbows of Spanish and Italian construction, which are dated between the years 1640 and 1650.
Several writers on the chase - notably Salnove - describe the crossbow as being employed for killing deer in France during the reign of Louis XIII., 1610-1643.1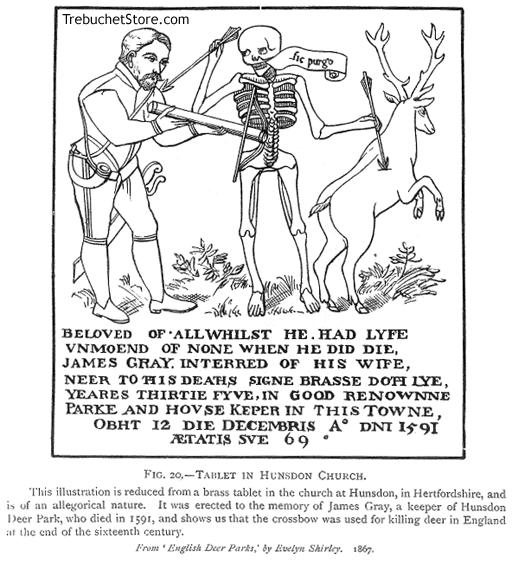 Fig. 20. - Tablet in Hunsdon Church
This illustration is reduced from a brass tablet in the church at Hunsdon, in Hertfordshire, and is of an allegorical nature. It was erected to the memory of James Gray, a keeper of Hunsdon Deer Park, who died in 1591, and shows us that the crossbow was used for killing deer in England at the end of the sixteenth century.
The same weapon held, to some extent, a similar position in England till, at all events, 1621, for there is a full report extant of the commission formed of twelve bishops who, at the request of James I., inquired into the death of
1 Salnove, Robert de, La Venerie Royale, en iv. parties. Paris, 1645