The Crossbow
Peter Hawkins, a park keeper at Bramshill in Hampshire, who was accidentally slain in 1621 by Archbishop Abbot of Canterbury, with a bolt from a crossbow which the prelate had aimed at a stag.
The archbishop, being of sedentary habits, had been ordered by his doctors to take exercise to improve his health, and at the time of the accident he was, for this purpose, enjoying the hospitality of his friend Edward, eleventh Lord Zouche. Bramshill, with its, to this day, splendid mansion and wild park, was at that time the residence of Lord Zouche, though it has since passed into the possession of the Cope family, its present owner being Sir Anthony Cope, thirteenth baronet. The legend of the 'Mistletoe Bough' is said to have originated at Bramshill.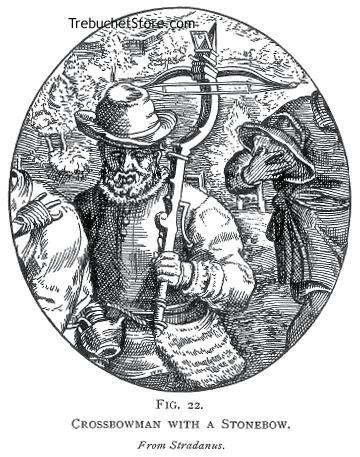 Fig. 22. - Crossbowman with a Stonebow
When King James heard of the archbishop's misfortune, he remarked, ' An angel might have miscarried in this way.'
Abbot's Hospital at Guildford in Surrey, is a memorial of the Archbishop's benevolence.
Early in the sixteenth century, the double-stringed stonebow was introduced, and at once became very popular with sportsmen, ladies, foresters