metal stud fixed below the shoulder-end of the stock of the crossbow, fig. 30, p. 73. Sometimes a thong of hide was substituted for the cord.

The single claw of the pulley was hooked over the bow-string close to its centre, and guided in its course along the stock, and also held from slipping sideways, by the fingers of the crossbowman, fig. 31.

As the crossbowman straightened his legs and body from their stooping posture, he naturally applied considerable force to his cord and pulley. He was thus able, quickly and easily, to draw the string of his crossbow towards him along the groove of its stock, till it finally caught on the nut that held it fast till the trigger was pressed. The cord and pulley being then removed from the crossbow, the weapon was ready for use.

The crossbowman placed his foot through the stirrup of his crossbow, in order to hold its stock firmly to the ground, so that it might resist the strain he applied to the bow-string.

This was a rapid and effective manner of bending the bow of a crossbow which, though too strong to be bent by hand alone, was not powerful enough to require a windlass for the purpose.

The system of a cord and pulley was probably the most ancient of all devices for bending crossbows, and is one that is rarely shown in illustrated manuscripts of a later date than the end of the first quarter of the fourteenth century.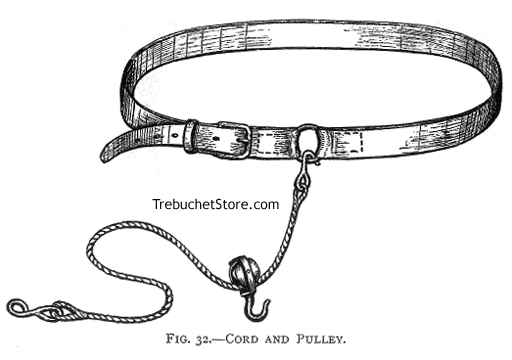 Fig. 32. - Cord and Pulley