The Crossbow

Chapter XVII

The Various Contrivances Employed for Bending
the Bows of Crossbows (Concluded)

The Goat's-Foot Lever

A Pied De Biche - A Pied De Chevre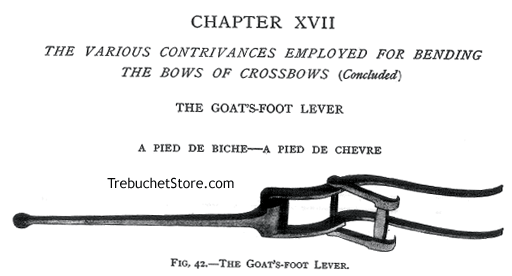 Fig. 42. - The Goat's Foot Lever.
This apparatus for bending crossbows was known as a goat's-foot lever, from its supposed resemblance in outline to a hind-foot of a goat. Though not of sufficient strength to bend a thick steel bow, or one such as required a windlass or a cranequin, the goat's-foot lever was of considerable power. Its action was easy and rapid, and could be applied on horseback. For these reasons, the goat's-foot was carried by the mounted crossbowman in preference to any other kind of lever employed for stretching the bow-string of a crossbow of moderate power.
The crossbow which was bent by a thong and pulley, a claw to the belt, a rack and screw or a windlass and ropes, could not possibly have been used by the mounted soldier. It is true the cranequin was employed for bending the larger crossbow carried by horsemen, but, as its mechanism was of elaborate and costly construction, it was not supplied to ordinary troops. On the other hand, the goat's-foot lever was simple and cheap and could be made for a trivial sum by any worker in metal.
I do not find the goat's-foot lever represented till the middle of the fourteenth century, but from that time till the end of the fifteenth century it is frequently pictured and mentioned in contemporary literature