The Crossbow
The nut and its socket should be of steel, and turned in a lathe to fit each other exactly, so that the nut may revolve accurately and closely in its socket.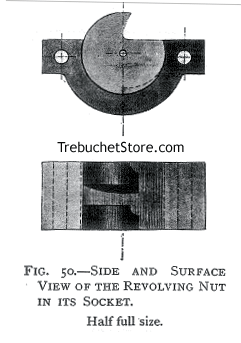 Fig. 50. - Side and Surface View of the Revolving Nut in Its Socket. Half full size.
The nut is 1 1/2 in. diameter and 1 1/4 in. thick. In outline the nut is, of course, a circle. The socket in which it revolves, is 1/4 in. more than a half circle, so as to bring the centre-hole of the nut 1/4 in. below the surface of the socket, and also of the stock of the crossbow,1 as shown in fig. 50.
The pin (1/8 in. diameter) which passes through the 3/16 in. hole in the centre of the nut, and also through the lock-plates, is merely intended, without receiving any pressure, to hold the nut in its position in the socket.
The socket should take all the pressure of the nut when the bow-string is stretched over the fingers of the latter, and for this reason the pin is slightly smaller than the hole in the centre of the nut. If any strain came upon the pin which passes through the nut, it would bend and the nut would not then revolve.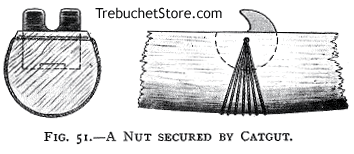 Fig. 51. - A Nut Secured by Catgut.
In many mediaeval crossbows, the pin through the nut was omitted, though sometimes present in the form of a thin length of catgut passed several times through the hole in the nut, and then round the stock, just to prevent the nut from falling out of its socket and being lost, fig. 51. More often, however, the nut, being only of horn, was not weakened by having a hole bored through its centre, but was held in its socket by two little screw-pins, one through each lock-plate, neither of which pins penetrated the opposite centres of the nut more than 1/4 in., fig. 52.
1 This prevents the pin which passes through the nut from being too near the upper edge of the stock. It also gives the revolving nut more 'centre bearing' against its socket to withstand the strain of the bow-string.