The Construction of the Crossbow
The small spring (C, fig. 55), inside the stock, forces the point, B, of the trigger firmly into the notch of the nut. In this way the bow-string is securely held till the nut is released by pressing the handle of the trigger upwards.
After the fifteenth century, other forms of trigger were invented for holding and releasing the revolving nut. The lock here described was, however, the simplest and best for ordinary use, and till the end of the fifteenth century was the only one applied to crossbows, whether military or sporting, which discharged bolts.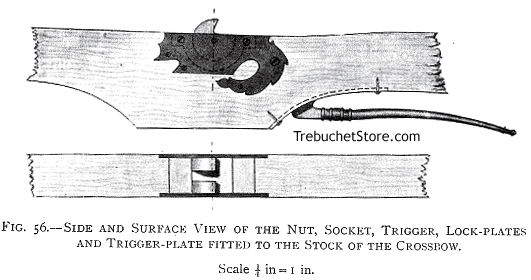 Fig. 56. - Side and Surface View of the Nut, Socket, Trigger, Lock-Plates, and Trigger Plate Fitted to the Stock of the Crossbow. Scale 1/4 in. = 1 in.
Fig. 56. The lock-plates - one on each side of the stock -are of steel, 1/8 in. thick. The lock-plates and their transverse screws strengthen the stock where it is cut out for the nut and its socket; they also hold the nut, socket and trigger in position.
The lock-plates (shaded) are morticed in flush with the woodwork of the stock, and close against the sides of the revolving nut and its socket, fig. 56.
The trigger-plate is fitted beneath the stock, as per dotted line and screws.