The Crossbow
The original stonebow appeared about 1500 and soon became very popular for killing game birds on the ground by day or, by the aid of a lantern, pigeons roosting on the trees at night.
Stonebows were made of various dimensions; some, intended for ladies, were so light that they could be held and aimed with one hand, while others had bows of two feet and more in length. These latter were put to the shoulder and were of sufficient strength to knock over a rabbit, or a pheasant or pigeon sitting on the bough of a tree.
The manipulation of the stonebow is well described in the poem ' Le Plaisir des Champs,' by Claude Gauchet d'Ampmartinois, printed at Paris in 1583 -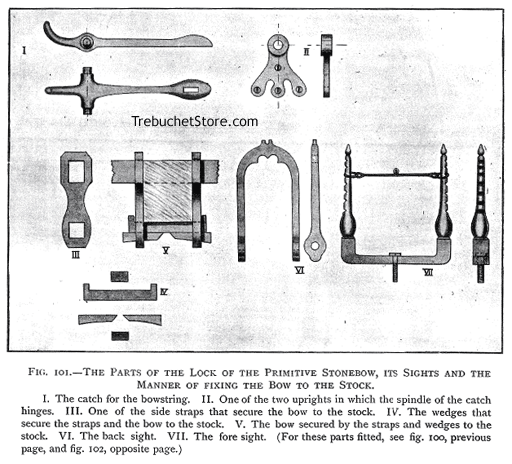 Fig. 101. - The Parts of the Lock of the Primitive Stonebow, Its Sights and the Manner of Fixing the Bow to the Stock.
I. The catch for the bowstring. II. One of the two uprights in which the spindle of the catch hinges. III. One of the side straps that secure the bow to the stock. V. The bow secured by the straps and wedges to the stock. VI. The back sight. VII. The fore sight (For these parts fitted, see fig. 100, previous page, and fig. 102, opposite page.)
A literal translation of the passage runs:
'Then with crossbow in hand I draw near, and placing a ball in its sling1 and the loop2 upon the nut3 of the lock, I bend the bow. Through the little
1 The pocket that holds the pebble or bullet. 2 The loop attached to the pocket
3 The catch for the bowstring