---
The Crossbow > Chapter 6 > Shortbow , Longbow and Crossbow > p.33

---
---
Shortbow , Longbow , and Crossbow
Many of the mercenary troops, however, such as Genoese and Gascons, whom we constantly hired in medieval days to fight for us abroad, and occasionally at home, were armed with crossbows till about 1480.
Crossbows for killing deer, and for shooting at butts, were fairly common among the English in the fifteenth century, and it was doubtless recognised by those in authority, that if the people practised with these easily manipulated weapons instead of with their longbows, skill in the use of the latter might be wanting in time of national danger.
It was, therefore, with certain reservations, as in the case of nobles and persons of wealth, at length enacted, that the possession of a crossbow, even for sporting purposes, be forbidden by law among the people of England.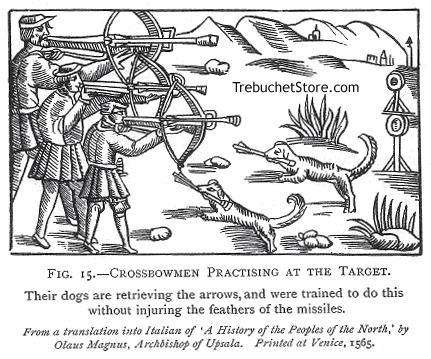 Fig. 15. - Crossbowmen Practising at the Target.
Their dogs are retrieving the arrows, and were trained to do this without injuring the feathers of the missiles.
This Act was introduced in 1508, during the reign of Henry V11., and reinforced by statute, mandate, or proclamation, in 1512, 1515, 1524, 1528, and 1534 in that of his successor Henry VIII. In 1536, the Act against crossbows was repealed, and their use was permitted, except in the King's Parks and Forests.
In 1537, the Act was once more renewed; this time it included handguns as well as crossbows, with the proviso, that those persons who were permitted to carry handguns must have none that exceeded two and a half feet in length, including the stock. In the few licenses granted to various persons, such as foresters and keepers, to carry crossbows to kill game, the heron was always excepted, as heron hawking was the favourite sport of royal and noble falconers.
The prohibition of the crossbow and the handgun must have been rigidly enforced in England, at all events till 1539. In April of that year, John Marshall writes to Thomas Cromwell, Lord Great Chamberlain (in 1539 made Earl of Essex, and the following year beheaded on Tower Hill): ' Have had the King's orders to provide four men to send to my Lord Admiral upon an hour's warning. Have done so. There are no gunners here by reason
The Crossbow > Chapter 6 > Shortbow , Longbow and Crossbow > p.33

---
---
<! Plans Insert Starts Here>
---
---
<! Plans Insert Ends Here> <! Multi-Pack Insert Starts Here>

<!hr WIDTH="100%">

Save up to 50% with Multi-Plan Deals
---
2 Plans $19.95 FREE Shipping - Save Over 30%
U.S. Orders Only

<! Multi-Pack Insert Ends Here> <! Catapult Book Insert Starts Here>
---
Get a Book of Catapult and Trebuchet Plans
---



Book of Catapult Plans
On Amazon.com
"Build Three Working Model Catapults, Easy to Build Plans and Instructions"

Build Three Working Model Catapults, Easy to Build Plans and Instructions is ideal for anyone looking to build authentic, working model catapults.

This book contains professionally designed, step-by-step plans and instructions for building three working model catapults:

The Stone Throwing Ballista, da Vinci's Spring Catapult and The Highland Trebuchet using parts and materials available from your local home center, or hardware store.

The straightforward designs require no complicated layout or joinery and include:

A Complete Parts and Materials Shopping List
Measured Drawings and Dimensions for All Individual Parts
Step-by-Step Assembly Drawings
Step-by-Step Assembly Instructions
Detailed Construction Notes
Step-by-Step Firing and Tuning Instructions
A Photo of the Completed Catapult
<! Catapult Book Insert Ends Here> <! Trebuchet Kit Insert Starts Here>
---

| | |
| --- | --- |
| Working Model Trebuchet Kit | |
---
Trebuchet Kit
TK1

$75.00
FREE Shipping
U.S. Orders Only

The trebuchet kit includes fully precut and drilled frame parts, pins and axles, sling cord and sewn pouch, projectiles and fully illustrated assembly and firing instructions.

Unlike the flimsy, snap together plywood trebuchet kits, our all hardwood trebuchet kit does not require additional cutting, trimming or shaping.

Requires only white carpenter's glue and a few bar clamps (not included) to assemble.
<!Trebuchet Kit Insert Ends Here> <!TP7 Insert Starts Here>
---
Build a Trebuchet From Plans
---
Materials Shopping List
Complete Parts List
Measured Drawings for All Parts
Step-By-Step Assembly Drawings
Construction Details and Notes
How a Trebuchet Works
Illustrated Firing Instructions
Illustrated Tuning Instructions
Picture of the Completed Trebuchet
<!TP7 Insert Ends Here> <! Assembled Model Starts Here>
---
| | |
| --- | --- |
| Fully Assembled Working Models | |
---

daVinci Trebuchet

T4

$299.00
FREE Shipping
U.S. Orders Only

Inspired by the great war machines and siege catapults of Leonardo da Vinci , this all Red Oak hardwood trebuchet features an open counterweight cabinet for range and trajectory adjustment.

Individually crafted from cabinet-grade red oak, the da Vinci Trebuchet stands 14 inches tall in the cocked position, 24 inches tall in the fired position and will hurl a projectile up to 60 feet. Includes six projectiles and fully illustrated instructions.
<! Assembled Model Ends Here>