---
The Crossbow > Chapter 6 > Shortbow and Longbow in Relation to the Crossbow > p.31

---
---
Chapter VI

The Shortbow and Long Bow in Relation to the Crossbow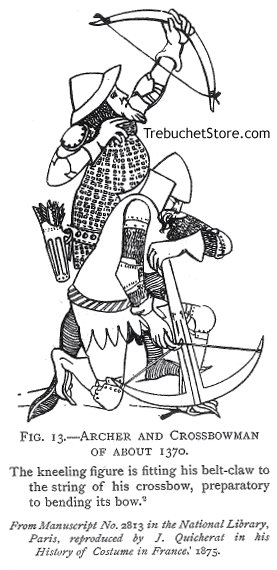 Fig. 13. - Archer and Crossbowman of About 1370.
The kneeling figure is fitting his belt-claw to the string of his crossbow, preparatory to bending its bow. 2
In the Bayeux Tapestry, though no crossbows are shown, many Norman soldiers are depicted carrying bows and arrows, the bows being short bows and not longbows. The longbow can usually be identified, as its length was about the same as the height of the man who carried it. In this pictorial and contemporary representation of the Conquest of England, there is only one British bowman to be found, and he is bearing the ordinary Saxon shortbow 1. The bow was little used by the Saxons at the time of the Conquest, their chief weapons at that time being spears and axes, both of which they cast at the enemy when he approached sufficiently near.
The shortbow, and the primitive crossbow with its bow of solid wood, or of wood, horn and sinew, were probably equally effective in early medieval warfare, the crossbow being, perhaps, the more efficient of the two weapons in the case of men wearing mail, or carrying leathern shields.
It was when the powerful longbow, as used by foot-soldiers only, appeared, that the crossbow with its wood, or horn and wood, bow was completely overmatched.
1 See Plate LXV. in the history and description of the Bayeux Tapestry by F. R. Fowke, 1898.
In reference to the above, Edward A. Freeman in his History of the Norman Conquest of England, vol. iii. p. 472, writes ' Only one English archer is represented in the Bayeux Tapestry.'
2 See Chapter XV. for a description of the belt claw.
The Crossbow > Chapter 6 > Shortbow and Longbow in Relation to the Crossbow > p.31

---
---
<! Plans Insert Starts Here>
---
---
<! Plans Insert Ends Here> <! Multi-Pack Insert Starts Here>

<!hr WIDTH="100%">

Save up to 50% with Multi-Plan Deals
---
2 Plans $19.95 FREE Shipping - Save Over 30%
U.S. Orders Only

<! Multi-Pack Insert Ends Here> <! Catapult Book Insert Starts Here>
---
Get a Book of Catapult and Trebuchet Plans
---



Book of Catapult Plans
On Amazon.com
"Build Three Working Model Catapults, Easy to Build Plans and Instructions"

Build Three Working Model Catapults, Easy to Build Plans and Instructions is ideal for anyone looking to build authentic, working model catapults.

This book contains professionally designed, step-by-step plans and instructions for building three working model catapults:

The Stone Throwing Ballista, da Vinci's Spring Catapult and The Highland Trebuchet using parts and materials available from your local home center, or hardware store.

The straightforward designs require no complicated layout or joinery and include:

A Complete Parts and Materials Shopping List
Measured Drawings and Dimensions for All Individual Parts
Step-by-Step Assembly Drawings
Step-by-Step Assembly Instructions
Detailed Construction Notes
Step-by-Step Firing and Tuning Instructions
A Photo of the Completed Catapult
<! Catapult Book Insert Ends Here> <! Trebuchet Kit Insert Starts Here>
---

| | |
| --- | --- |
| Working Model Trebuchet Kit | |
---
Trebuchet Kit
TK1

$75.00
FREE Shipping
U.S. Orders Only

The trebuchet kit includes fully precut and drilled frame parts, pins and axles, sling cord and sewn pouch, projectiles and fully illustrated assembly and firing instructions.

Unlike the flimsy, snap together plywood trebuchet kits, our all hardwood trebuchet kit does not require additional cutting, trimming or shaping.

Requires only white carpenter's glue and a few bar clamps (not included) to assemble.
<!Trebuchet Kit Insert Ends Here> <!TP7 Insert Starts Here>
---
Build a Trebuchet From Plans
---
Materials Shopping List
Complete Parts List
Measured Drawings for All Parts
Step-By-Step Assembly Drawings
Construction Details and Notes
How a Trebuchet Works
Illustrated Firing Instructions
Illustrated Tuning Instructions
Picture of the Completed Trebuchet
<!TP7 Insert Ends Here> <! Assembled Model Starts Here>
---
| | |
| --- | --- |
| Fully Assembled Working Models | |
---

daVinci Trebuchet

T4

$299.00
FREE Shipping
U.S. Orders Only

Inspired by the great war machines and siege catapults of Leonardo da Vinci , this all Red Oak hardwood trebuchet features an open counterweight cabinet for range and trajectory adjustment.

Individually crafted from cabinet-grade red oak, the da Vinci Trebuchet stands 14 inches tall in the cocked position, 24 inches tall in the fired position and will hurl a projectile up to 60 feet. Includes six projectiles and fully illustrated instructions.
<! Assembled Model Ends Here>