Chapter XV

The Various Contrivances Employed for Bending
the Bows of Crossbows (continued)

The Claw and Belt
A metal claw, either single or double pronged, swinging to a waist belt, seems to have been a popular method in the fourteenth century of bending the bows of military and sporting crossbows of the weaker kind.
Figs. 33 and 34 are taken from Viollet-le-Duc.1 They plainly show how the claw was applied to bend the crossbow. The claw was attached to the cross-bowman's leather belt, and was either suspended therefrom by a ring fixed to its shank, or the upper end of its shank was crooked, so as to hook over the belt. As the leverage to bend the crossbow was in this case exerted by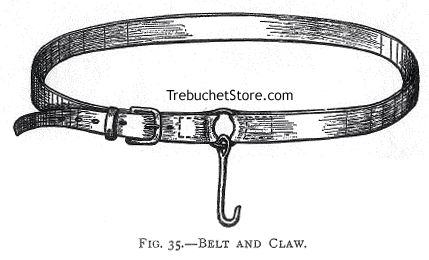 Fig. 35.- Belt and Claw.
the direct pressure of the leg, it was of a much more powerful nature than the arrangement of cord and pulley described in Chapter XIV.
When the crossbowman wished to bend his crossbow, he held its stock in an upright position, with its grooved surface next him and its stirrup directed downwards, fig. 34. He hooked his metal claw over the centre of the bowstring, the stirrup at the fore-end of the crossbow being then abut a foot above the ground, fig. 34. The crossbowman now raised his right foot and placed it in the stirrup. He then straightened his bended leg, and in this way forced
1 Viollet-le-Duc, Dictionnuire raisonnc du Mobilier franfais, Paris, 1855-1875.