The Crossbow
Fig. 40 is from Valturius, and represents a crossbow with its handle and screw.1
Fig. 41, opposite page, Shows how the screw was applied to bend the crossbow.
The long shank of the screw rod was of a smaller diameter than, and was able to pass easily to or fro through, the longitudinal hole in the raised part of the stock of the crossbow.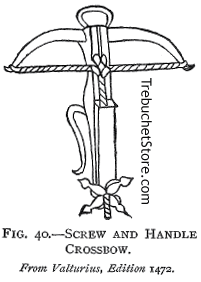 Fig. 40. - Screw and Handle Crossbow.
When the crossbowman wished to bend his bow, he pushed the rod through the long hole in the stock of his crossbow, and at the same time hooked the claw of the rod over his bow-string. He then screwed the handle on to the end of the rod, where it projected slightly beyond the extremity of the stock, fig. 41.
He now turned the handle. The pressure of the revolving handle against the end of the stock caused the rod to pull back with its claw the bowstring, till the latter was at length secured by the catch of the lock. The bow being bent, the handle was quickly reversed and in this way spun off the rod. The rod was then loose, and was pushed forward to remove it from the stock and bow-string, and the crossbow was ready for use.
The end of the stock of the crossbow had a steel cap, to protect this part from being worn away by the friction of the handle, as well as to assist the handle to work smoothly when it was being turned round by the cross-bowman to bend his bow.
1 Valturius Robertus, living at the end of the fifteenth century. Author of De Re Militari, first printed at Verona in 1472.