Chapter XVI

The Various Contrivances Employed for Bending
the Bows of Crossbows (continued)

The Screw and Handle
As the crossbowman gradually increased the strength of his bow, with a view to acquiring a longer range and the use of a heavier missile, he, in course of time, required for drawing his bow-string some contrivance which was of more power than the cord and pulley or the belt claw.
For this purpose, he devised a rough form of screw-jack, of metal, that he could attach to the stock of his weapon when he wished to bend its bow. This apparatus, though of clumsy mechanism and tedious manipulation, was far more powerful than any system of leverage previously applied to a crossbow.
Representations of the screw and its handle are very rare in illuminated manuscripts of mediaeval times, though crossbows that were bent in this manner, and which had steel bows, are frequently mentioned in the latter half of the fourteenth century.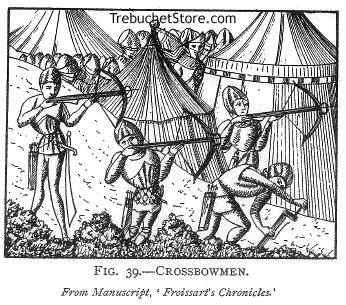 Fig. 39. - Crossbowmen.
This screw and handle bender for crossbows, must not be confused with the rack introduced in the fifteenth century, known as a ' Cranequin.' It is probable, however, that the screw here described suggested the much more convenient 'Cranequin' that succeeded it.
Fig. 39 is from a Froissart manuscript of the early part of the fifteenth century, and shows a crossbowman bending his bow with a screw. He is kneeling on the ground, and is engaged in turning the handle that draws back the metal rod which stretches his bow-string.